MENTE Inc Sponsors
The City of Ideas
How Do You Change The World?
If you're on this website, you know that it all starts with a thought... An IDEA!
Any change in life... any innovation... ALL inventions first started with an idea.
What if an entire cadre of world-class thinkers and doers got together to deal with the tough issues of today, as well as the tough questions to find answers and ASK the right questions?
It would be an unprecedented event that will propel Universal Consciousness forward.
And it will!!!
November 6 to 8, 2008, in the City of Puebla, Mexico will be the time and place for this, and MENTE Inc will be there. In fact, we're sponsoring this event (see below).
If you're looking to be part of the solution, check it out, now!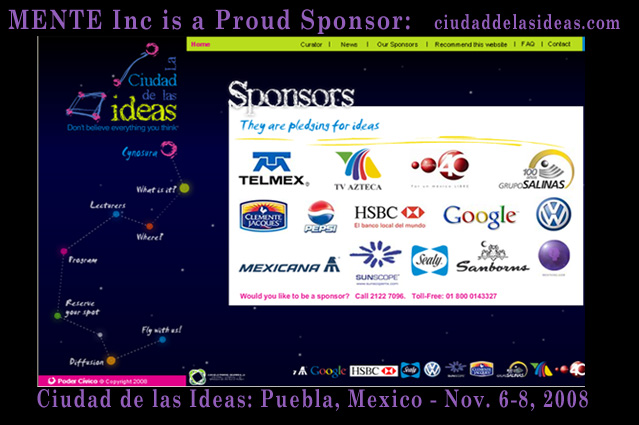 Click on the image above to visit the Website, get more information and sign up. Click on the English tab.
See you there!
Questions?